Latest Publication
Check out the latest edited volume drawn from our 2017 colloquium at the University of Florida, Gainesville: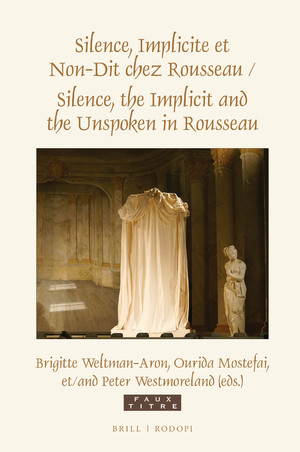 Silence, Implicite et Non-Dit chez Rousseau / Silence, the Implicit and the Unspoken in Rousseau. Edited by Brigitte Weltman-Aron, Ourida Mostefai, Peter Westmoreland. Leiden: Brill | Rodopi, 2020.
Announcements
RA Virtual Conversation Series
Join us via Zoom on Friday, December 3, 2021 at 1:00 pm EST for a virtual conversation with Elliot Montagano on "Rousseau and the Problem of Censorship: Freedom, Virtue, and the Education of the Citizen." A text will be pre-circulated in advance. If you are a member of the RA, please check your inbox for details, or else write to Masano Yamashita or Flora Champy for a link to the session.
SECFS Online Rousseau Event
The Society for Eighteenth-Century French Studies (SECFS) will host an online conversation on Monday, December 6, 2021 at 3:00 pm EST, featuring Barbara Abrams, Mira Morgenstern, and Karen Sullivan, who will discuss their new book, Reframing Rousseau's Lévite d'Ephraïm: The Hebrew Bible, Hospitality, and Modern Identity (Oxford University Studies in the Enlightenment Series, Liverpool University Press, 2021). After their conversation, there will be time for further questions from the audience. Please follow this link to register.
RA Biennial Colloquium
The 2023 RA Colloquium on "The Possible, the Real, and the Ideal / Le possible, le réel, et l'idéal" will take place in Paris under the co-direction of Johanna Lenne-Cornuez and Louis Guerpillon.

The 2021 RA Colloquium explored the topic of "Rereading Rousseau's Essay on the Origin of Languages / L'Essai sur l'origine des langues de Rousseau : une relecture." Colloquium Director Nathan Martin hosted us online from May 21-23, 2021.
RA at ASECS
The 2022 Rousseau Association ASECS panel "Grievances in Rousseau / Doléances chez Rousseau" will take place at the American Society for Eighteenth-Century Studies Annual Meeting in Baltimore from March 31-April 2, 2022.
Join the RA and Annual Renewal
It's easy (and inexpensive) to join the Rousseau Association or to renew your annual membership!
Annual dues are only $40 for senior faculty, $20.00 for other faculty and non-faculty membership, and student and retired member annual dues are $10.00.
If you are already a member and have not yet paid your annual dues this year, please do so at this time, along with any past dues you may still owe.
Thank you for supporting our activities! We appreciate the vital role you play in our community from around the world interested in Rousseau and his legacies.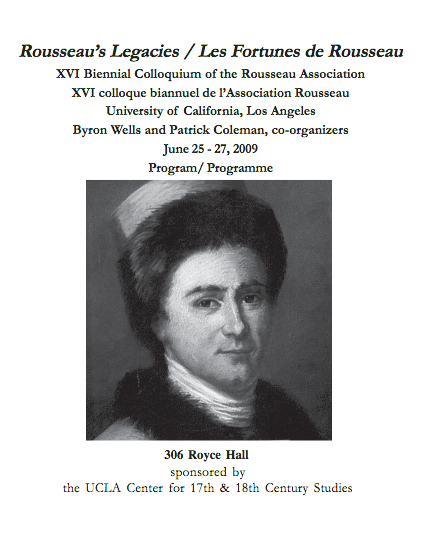 The Rousseau Association is a bilingual society devoted to the study of Jean-Jacques Rousseau. Our membership is multinational and interdisciplinary. We count among our numbers specialists from around the world in history, languages, literature, philosophy, political science, and other fields. We welcome members from all disciplines. Members receive an annual newsletter and are eligible to participate in Rousseau Association colloquia, as well as in panels that it sponsors at other professional meetings (such as those of the American Society for Eighteenth-Century Studies).
The Association sponsors a colloquium every two years at locations across the United States and beyond. The meeting is usually devoted to a specific text or question, and all papers are given in plenary sessions.